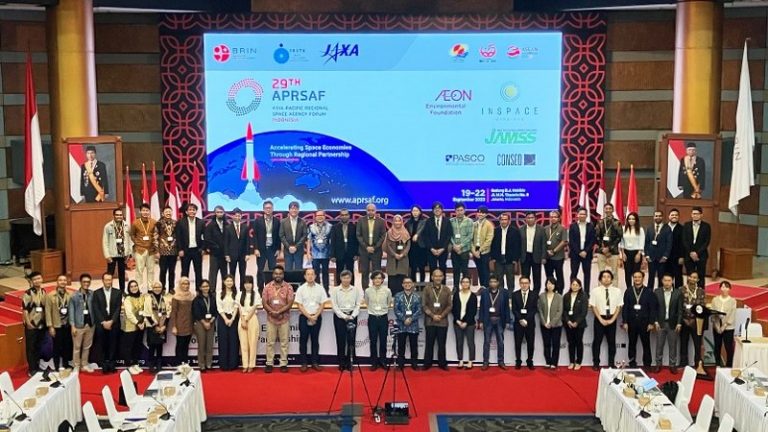 Under the activities of Sentinel Asia on Support Work on JAXA's Responsibilities Regarding Disaster Response Related, the Geoinformatics Center (GIC) was honored to participated in the 8th Joint Project Team Meeting for Sentinel Asia (JPTM 2023). The meeting included 85 participants from 35 member organizations in the Asia-Pacific Region as the partners of Sentinel Asia. The JPTM 2023 was held in BRIN Headquarter in Jakarta, Indonesia, embarked the annual gathering among the partners related to disaster response.
In this meeting, participants – which also the members of Sentinel Asia, shared about their initiatives and solutions related to the disaster management activities. The topic elaborated on the disaster management activities such as the experiences and challenges faced during the disaster from respective countries. The main objective to the meeting was including the discussions and workshop related to the satellite data analysis methods for generating satellite-based disaster maps, which was back-to-back with the 29th session of the Asia-Pacific Regional Space Agency Forum (APRSAF-29). The APRSAF-29 was organized by the National Research and Innovation Agency (BRIN), the Ministry of Education, Culture, Sports, Science and Technology (MEXT) of Japan, and the Japan Aerospace Exploration Agency (JAXA).
By working under the development methodologies for satellite image analysis, GIC contributed to the important methods related to the developed systems for disaster risk reduction. GIC's research specialist, Syams Nashrrullah, presented about the activities on the response to Sentinel Asia Emergency Observation Requests (EORs) during 2022 to 2023. He mainly discussed SAR data analysis and mobile app development for emergency response to the disaster occurrence.
Under the co-joint meeting and conference, the Sentinel Asia activities including the JPTM 2023 outcomes which were held back-to-back with the APRSAF-29 were reported at the Satellite Applications for Societal Benefit Working Group (SAWG) session. Hopefully, the session enriched the development on the disaster response and reducing the risks of the disaster occurrence in the future, also fostering the collaboration among the members of Sentinel Asia.