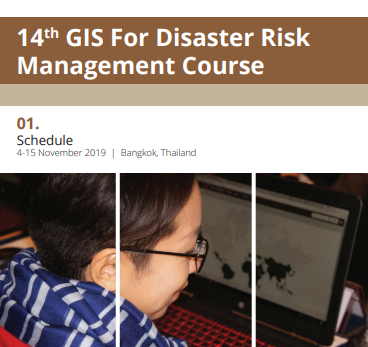 Course Overview
Geographical Information System (GIS) is an excellent tool to assess and analyze the disaster risk. ADPC, in collaboration with ITC, AIT and UNOSAT designed the Training Course on GIS for Disaster Risk Management for persons who are interested to assess and analyze data and information using GIS tools.
The course aims to provide an overview of the use of spatial information in disaster risk management. The course not only explains what spatial data is and how it is collected, but also emphasizes on the use of the data during pre- and post-disaster management such as in early warning systems and hazard, vulnerability, risk, and damage assessments as well as in the design of risk reduction measures.
The good thing about this course is that you don't need to be an IT or a GIS person. You just need to be a DRM person with computer background and you are ready to learn and work around the software and GIS tools the course provides.
Course Objectives
Upon completion of this course, participants should be able to:
Understand the concept of Disaster Risk Assessment, Reduction and Management

Describe and utilize spatial data, geographic information systems (GIS) and remote sensing in disaster risk assessment and management

Utilize existing sources of historical disaster information

Apply GIS/remote sensing in hazard, vulnerability, and risk assessment

Utilize risk information in emergency preparedness planning

Visualize hazard and risk information

Apply GIS/remote sensing to pre & post-disaster damage assessment
Course Content
In order to achieve the objectives, the course will have the following modules:
Module: Disaster Management Related Concepts, Terminologies, and Frameworks
This module orients participants about the disaster related basic concepts and terminologies, disaster risk trends, climate change and disaster, major frameworks, approaches, tools, and methods for disaster risk reduction and climate change adaptation.
Module: Overview of GIS and Remote Sensing
This module discusses basic concepts of GIS and remote sensing and their components as well as introduction to spatial information technology and handling spatial information using GIS software as a tool to support disaster risk assessment and management.
Module: Pre-disaster risk assessment
This module discuss on risk assessment components including hazard assessment, elements at-risk, exposure assessment, vulnerability assessment, coping capacity, types and methodology of risk assessment including indicator-based and modeling based, risk evaluation, and cost-benefit analysis.
Module: Post-disaster impact and damage analysis
This module discusses the use of remote sensing data/satellite imagery for disaster relief and recovery, impact analysis and preliminary damage assessment, and building damage assessment.
Module: Risk information and communication for risk reduction planning
This module discuss on how risk result/information can be communicated effectively by visualization of risk information, map interpretation, web portal in order to raise disaster risk awareness for risk reduction planning. Application of risk assessment such as risk-sensitive land use planning will also be discussed in this module.
Module: Mini projects
This module provides opportunity to participants to apply their learning during the 2 weeks period of training.
Methodologies
Various trainee-centered methodologies shall be employed:
Lectures
Presentations
Role-Plays
Group Exercises

The course shall be conducted in English.
Target Participants
The course is open to all participants who are working or will be working in the organizations where spatial information is used or considered to be used for the purpose of disaster risk assessment, disaster risk management, or disaster risk reduction. There is no prerequisite GIS and remote sensing knowledge for participant who is interested in this course.
Registration
Interested individuals and organizations can register online at www.adpc.net/apply.
For more information about the course, you may also contact Thanyaphat Sirasakpureekul at thanyaphat@adpc.net and telephone numbers +66 22980681 to 92 loc. 134.
Due to limited slots for this course, interested parties must register on or before October 7, 2019 while payment must be made by October 21, 2019.
Course Fee
Investment for the course is USD2,375. This is inclusive of cost of instruction; morning and afternoon snacks and training kits which include e-tablets that the participants can keep after the course. Special discount rates and packages may apply:
10% discount for women participants

10% discount for self-paying participants (over and above the 10% discount for women)

10% discount for each participant sent by an organization (minimum of three participants)
Payment
If you are selected to attend the course, the payment should be transferred to ADPC's account through a bank transfer at least one month before course commence. Otherwise, your participation will be cancelled. Please note that personal checks are not accepted as a form of payment.
Cancellation
If you are unable to attend, a substitute applicant is welcome to attend in your place, provided the participation criteria described above have been met.
Cancellation of attendance should be notified at least three weeks prior to course commencement; in which case, 15 percent of the course fee will be deducted for banking charges and administrative costs. No refunds are available for cancellation within three weeks prior to course commencement.