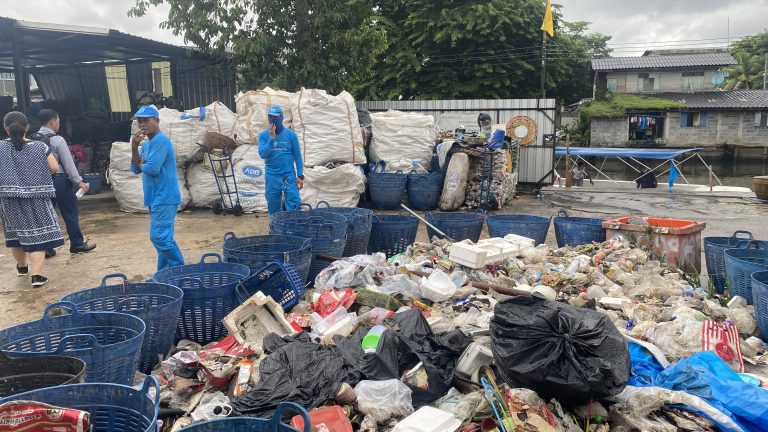 According to the Bangkok Declaration on Combating Marine Debris in the ASEAN Region and the ASEAN Framework of Action on Marine Debris, ASEAN countries are pledged to implement each national action plan focusing on sound solid waste management (SWM). In this approach, the Geoinformatics Center was involved along with the Japan-ASEAN Integrated Fund (JAIF) to give the capacity on the knowledge transfer to implement the shaping of the national action plans.
The embarkment enlightens with the training workshop, which was cordially organized by the JAIF team at Pullman Bangkok King Power, Khet Ratchathewi, Bangkok, Thailand. The JAIF team consisted of Institute for Global Environmental Strategies (IGES), IDEA Consultants, Inc., and the Geoinformatics Center of the Asian Institute of Technology. The training workshop titled "Regional Training Workshop on the Development of National Action Plan on Marine Debris and Evidence-based Policy Making for Sound Solid Waste Management in ASEAN Member States (AMS)" which happened on 26th to 28th September 2023, gathered about 48 participants among the ASEAN member state countries. The participants came from different sectors such as academia, local to regional authority, international organization, and researcher.
The Geoinformatics Center involved as the resource persons (trainers), where the team mainly organized the second day (27th September 2023) about Plastic Leakage Monitoring, Estimation and Data Collection. Makoto Tsukiji, an IGES Senior Fellow and international consultant in waste management for ASEAN region moderated the session. The presentation and training went along from the team:
Angsana Chaksan (Senior Research Associate) presented an Introduction to Plastic Leakage Monitoring Methodology, and specifically giving the understanding on Mobile Application Tool for data collection,
Indradhi Faisal Ibrahim (Waste Management Expert) mainly presented the approach of waste management analysis using a Waste Flow Diagram as part of the waste management expert duty in the GIC team,
Aprilia Nidia Rinasti (Research Associate) was delivering the conclusions and elaboration of National Actions Plans with the data provided, which concluded during the moderation of the group discussions.
The training and workshop were also elaborated with the National Action Plans as part of the approach to take the legally binding of effective plastic treaty. In this workshop, Brenda Koekkoek was joined virtually as the representatives from the Intergovernmental Negotiating Committee (INC) Secretariat on Plastic Pollution, United Nations Environment Programme (UNEP). The overall workshop coverage concluded the discussions and networking throughout the plastic governance for the development in ASEAN countries.
Related links:
IGES Publication on National Action Plans https://www.iges.or.jp/en/pub/national-plastic-action-partnerships-npap-multistakeholder-approach-addressing-plastic
Project Link in JAIF https://jaif.asean.org/whats-new/strengthening-capacity-for-marine-debris-reduction-in-asean-region-through-formulation-of-national-action-plans-for-asean-member-states-and-integrated-land-to-sea-policy-approach/
Project description in JAIF https://jaif.asean.org/project-brief/strengthening-capacity-for-marine-debris-reduction-in-asean-region-through-formulation-of-national-action-plans-for-asean-member-states-and-integrated-land-to-sea-policy-approach-phase-2/