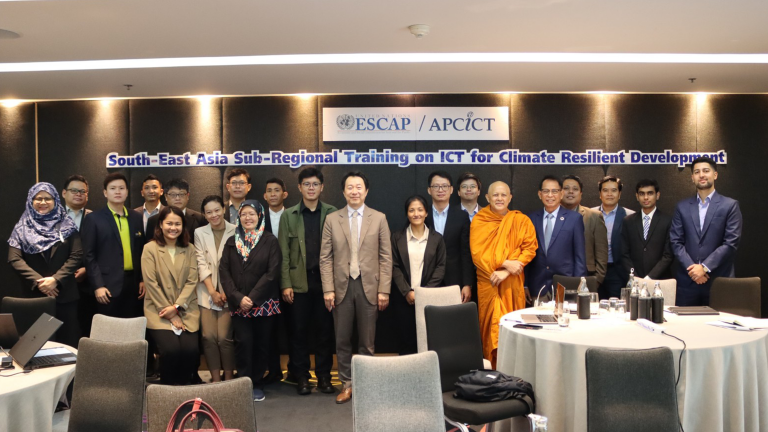 The Asian and Pacific Training Center for ICT for Development (APCICT) was organizing a Sub-regional training in South-East Asia on "ICT for Climate Resilient Development". Helding in 3 days (15 – 17 May 2023), the training aimed to enhance participant's understanding of utilizing ICT solutions to address the challenges posed by climate change. GIC-AIT together with representatives from various countries in the region gathered at the training to share knowledge and best practices in harnessing ICT for climate resilience.  
The event featured interactive sessions, workshops, and expert presentations to explore the potential of ICT tools in building resilient communities and mitigating the impacts of climate change. The training fostered an open and collaborative environment, allowing participants to exchange experiences and lessons learned from their respective countries. The discussions revolved around personal engagement with climate change, challenges in ICT development for climate resilience, and strategies for achieving net-zero carbon emissions. 
The South-East Asia sub-regional training on ICT for climate-resilient development served as a significant milestone in advancing regional cooperation and capacity building in this crucial field. With the insights gained from this event, participants are poised to make positive contributions to their communities and contribute to a more sustainable and resilient future.