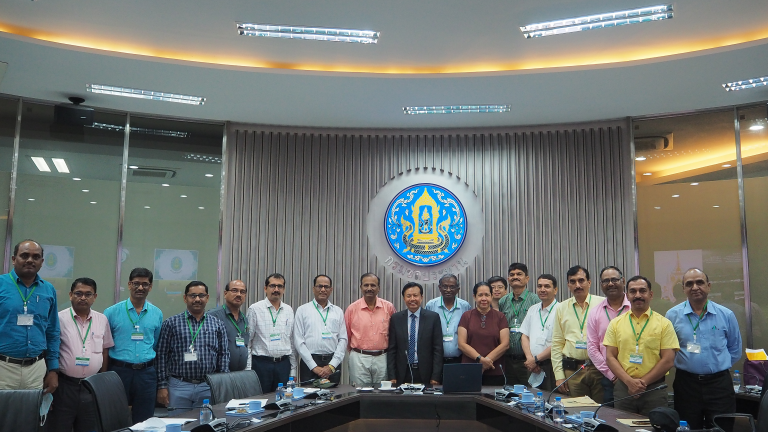 GIC has successfully conducted two training programs for current and future experts from agriculture domain. In the training program, participants were equipped with skills to utilize geospatial technologies for analyzing Precision Agriculture and Climate Smart Agriculture, ensuring that they stay up-to-date with modern technology. The training program utilized different methods and discussions to educate participants on the application of contemporary geospatial technologies. These included training on the utilization of Google Earth Engine (GEE) for cloud processing, sensor networks, multispectral drones, and processing of climate data.
The training program was attended by 35 affiliated faculties and students, coming from the different institutions, i.e., Mahatma Phule Krishi Vidyapeeth (MPKV), Rahuri, Ahmednagar, Maharashtra, India; Vasantrao Naik Marathwada Krishi Vidyapeeth (VNMKV), Parbhani, India; Jawaharlal Nehru Krishi Vishwa Vidyalaya (JNKVV), Jabalpur, India. 
The training program was conducted in two sessions. The objective of first session and the study tour was to provide the participants with knowledge and practical skills in using IoT, drones, GNSS and robotics for precision agriculture. Additionally, a field visit to the Royal Irrigation Department in Bangkok, Thailand was conducted to provide hands-on experience and compliance with the site visit requirement. The objective of the second session was to provide the participants with knowledge and applications in using advanced technologies for climate smart agriculture.
The two training programs conducted by GIC have equipped participants with geospatial technology skills for Precision Agriculture and Climate Smart Agriculture, through the use of contemporary technologies and practical experience. We believe that the program have contributed significantly to the development of human resource and expertise in these fields.