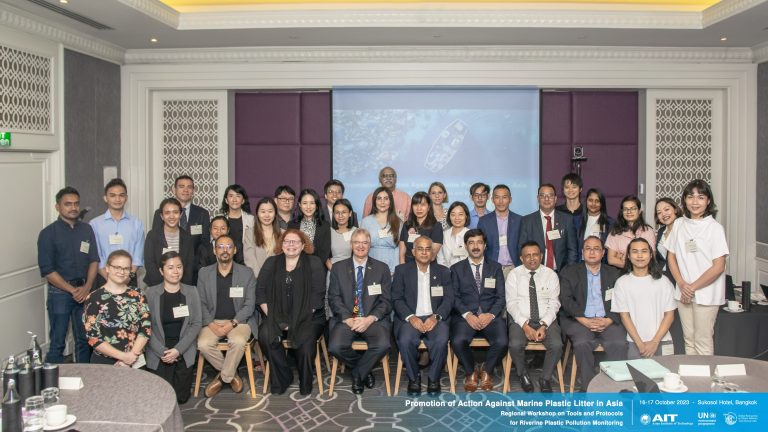 The Geoinformatics Center was participated in the Regional Workshop on Tools and Protocols for Riverine Plastic Pollution Monitoring on Promotion of Action Against Marine Plastic Litter in Asia, which was cordially hosted by UN Environment Programme – Regional Asia-Pacific Office and Asian Institute of Technology. The regional workshop was held in two consecutive days (16th to 17th October 2023) at the Sukosol Hotel, Ratchathewi, Bangkok, Thailand.
The regional workshop aimed to promote the science-based and evidence-driven action to reduce and prevent influx of plastic into Asian rivers. The prevention and action included with the development of roadmaps for plastic pollution monitoring in rivers and the formulation of bankable project proposals in project countries.
The participants of the workshop were from the different sectors across the academia, waste management stakeholders, and international organizations. There were 36 participants who actively involved in the discussions came from various countries: Thailand, Laos, Cambodia, Vietnam, Sri Lanka, Pakistan, Kenya, Philippines, and Japan.
GIC served as the resource persons for the regional workshop. Drawing on their significant involvement in the previous CounterMEASURE Phase-II project, GIC highlighted both past successes and ongoing developments in addressing the plastic waste issue in the region. Dr. Kittiphon Boonma, a Research Specialist at GIC, presented "Science-based Tools for Mapping and Monitoring Plastic Pollution along Rivers," focusing on the use of pLitter as the featured tool. Additionally, Dr. Boonma contributed to the session titled "Towards the Development of Roadmaps for Riverine Plastic Pollution Monitoring," emphasizing the potential for data elaboration to inform evidence-based policy making.
GIC also demonstrated the in-house development of the applications which can assist the assessment of the plastic waste in the environment. The demonstration compiled:
Monitoring Plastic Litter using a Mobile-App,
The internal working of pLitter CCTV, and
Plastic classification and annotation applications for citizen science
The regional workshop exceeded expectations, with participants gaining a comprehensive understanding of the issues and being informed about various monitoring approaches. The next phase involves compiling an inventory of replicable works applicable to other areas, based on the insights gained during the workshop.